Vice-President, Director of Program and Operations
DENISE DUCLOS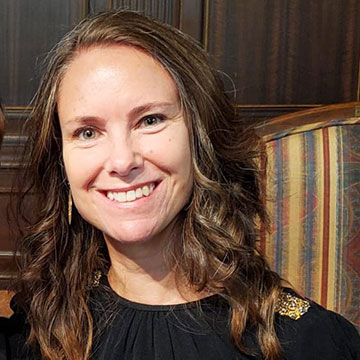 DENISE DUCLOS
VICE-PRESIDENT, DIRECTOR OF PROGRAM AND OPERATIONS
Native of Chile
Masters in Biotechnology from The Hebrew University of Jerusalem in Israel, and a Ph.D. in plant science from Cornell University in Ithaca, NY
Knows firsthand, as a parent, how important it is for patients and their families to stay together during prolonged hospitalizations
Denise is a native of Chile, and has an engineering degree in Agronomy from the University of Valparaiso, in Chile, a Masters in Biotechnology from The Hebrew University of Jerusalem in Israel, and a Ph.D. in plant Science from Cornell University in Ithaca, NY. She is always excited about learning new things, exploring, finding answers to questions and problem solving.
As the parent of a child who spent the majority of her life in a hospital, she knows how important it is for patients and their families to remain together during prolonged hospitalizations. Throughout her career Denise was able to develop perseverance, trust, independence, and confidence — tools that she needed more than ever when life put her in one of the hardest paths, and tools that she now uses to reach the hearts of patients, families and hosts. Denise loves spending time with her two children and husband, enjoys traveling, discovering new places and cultures. Contact Denise by email
Connect with Us
Sign up for news and updates from Hospitality Homes!
---
By submitting this form, you are consenting to receive marketing emails from: . You can revoke your consent to receive emails at any time by using the SafeUnsubscribe® link, found at the bottom of every email.
Emails are serviced by Constant Contact